That guy you're about to buy shelving from on the internet...

What's his address? Phone?
Is there an 'About' page? 'Contact'?

What info does he want from you?

Many dealers have many websites, yet only one physical location.

Also, shelving is deeply linked with the liquidation process, which can be here today, gone tommorow.

The back button on your browser is free.
Remember to level your shelving as you install it...

Level it again a week or two later. Gondola will often 'settle' after it bears a load for a while.

Protect your flooring! Take care not to scratch your tiles as you (install and) level your gondola.
A spinning foot adjuster can often be blocked with a thin sheet of hard plastic.

If you move products and seriously adjust your weight; level, wait a week, level again.
Used Gondola Shelving


Gondola shelving is stronger and more versatile than most styles of retail store shelving. It is durable, often outlasting the life of the retail business it services.
Gondola's durability lasts long into the second hand market, and can outfit several stores during it's lifespan.

Many major brands, like Lozier or Madix, have 20 year old parts that can often be integrated into shelving that is manufactured today.
This long life, backward compatibility and current availability of parts make buying used product a safer prospect, and allows some dealers to sustain a complete used product year-round.

Many closing retailers, especially chains and larger stores, will go through some form of store fixture liquidation process. Used retail shelving, in one form or another, is the backbone of the store fixture liquidation business.

Used shelving gets around, and used shelving is around.

While I do not buy or sell shelving, I can run quotes to several solid dealers for you, or please use this site as a tool to buy, sell or inform yourself about used gondola style shelving.
I started brokering shelving.
Buy used shelving
© 2011-2017 usedgondolashelving.com • All rights reserved
1-800-301-0634
Used Retail Shelving
Grocery, Dollar, C-Store
Used Lozier • Used Madix
Shelving Liquidations
Used gondola shelving and store fixture liquidations are deeply integrated.

When a store closes, it's almost always preferable to sell the fixtures right on site.

Closing stores can save on labor, tools, dumpsters, shipping and/or storage, if they just hold a sale, then people come, buy and take the fixtures.

If you buy shelving after a liquidation sale, you might eat some of the costs listed above. Other times it costs more to buy from a liquidation. Here, you can always buy gondola shelving at liquidation prices.
No Loading Dock?
C-Store delivery?

You will need a loading dock or a forklift to unload the truck.

You can request a liftgate and pallet jack, which can be a $50 fee, or it can cause a whole shipment to require a more expesive carrier.

Get a quote needing a liftgate, and one NOT needing a liftgate. Then compare costs to forklift rental and delivery prices.

Does a neighbor have a forklift, or can you rent one cheap on the day you expect delivery?

You can NOT unload by hand.
Even just a few pallets.
The driver won't wait, and it's a legal/safety liability.

Maybe you can bribe the driver to wait, or even help unload...but he might be risking his job. You can't rely on this tactic...I've seen it work and I've seen it backfire.
Where to find cheap gondola...


OK. Stop Right there.
You don't want cheap gondola.
You want inexpesive gondola.

More often than not, it's not a store fixture company, or retail shelving dealer, that ends up determining gondola's fate.

Here's where I populate my database of local gondola dealers:
Wanna save even more?

Be flexible on shelf and base deck size by a few inches.

If your aisleways and products can work with 14", 15" or 16", you might quadruple the number of dealers who can service you. Make sure this is noted when sending out for quotes.

If you NEED 16" shelves and base decks, you will be limiting the number of dealers who can service you.

Smaller sizes are often easier to find, but it always depends on which retailer is closing.
How wide Should Aisleways be?


This is actually too big of a question for my brain, but if you want to find out how wide your aisleways have to be...

Americans with Disabilities Act

ADA Guide for Small Businesses
Some store fixture dealers
Not all though.
There's a divide in the store fixture industry.
Gondola display is great for grocery, dollar and c-stores...but what about that boutique, or jewelry store?

Some companies are more display oriented...mannequins, , slatwall, glass displays, tables...other weak, boring fixtures.
Stuff that can't hold 300 lbs, but I guess people like it.
You know...pretty stuff.

I don't list these companies in my directory, unless they advertise gondola. I don't want to get them dirty.
Material handling dealers
These guys are all about shelving.
Gondola is retail oriented, not warehouse, but sometimes it just ends up in an industrial equipment companies lap.

Sometimes a liquidating store has some great gondola, but an even greater amount of pallet rack in the back room.
Throw in a forklift, maybe a conveyor belt, and material handling companies will be throwing solid bids into the mix, and might end up with a store full of gondola.

If you google 'shelving', it's these guys that show up, but only 5% of them deal with gondola.
Liquidators, Auctioneers
Some liquidation or auction equipment only deal with fixed assets, which is often used equipment.
Some companies liquidate inventory from whole stores or chains, and gondola just ends up being a detail, or an after-sale.

Commercial Real Estate/ Salvage/ Deconstruction/Demolition
I'll tell you all again, gondola is just a small player in these games.
The rent on a corner store can be in the tens, or hundreds, of thousands of dollars, and gondola just goes where it's told.
Sometimes that's the landlord.
I don't list real estate brokers on my site; usually, if they have gondola, they got stuck with it, and it's an oddity.

Click your state to find local dealers and store fixture liquidations!!
1-800-877-4333
Get a quote from our Featured Liquidator!

Made in the USA!

That's right!
Most gondola you see is manufactured right here in the USA! In all fairness, i've seen some good stuff come out of Canada, too. I'll miss O.S.F..

It's simply too expensive to ship overseas as an import. Shelving is too bulky.

There are companies that try to import, mind you. The first thing they do, though, is try to cut down on the weight by using less metal and thinner board.

This creates a substandard gondola. It can't bear the same load, and it doesn't hold up over time.
Eventually the shelves will bend, making them hard to put back into place; or spanners give out a little, loosening the pegboard, making the unit unstable.

Look at most of the large fixture and shelving companies. They could offer imports as an alternative to high quality American made brands....but they don't.

Unless you're a pillow store, or only plan on being in business for 4 years...avoid the imports.

The Best Gondola Deals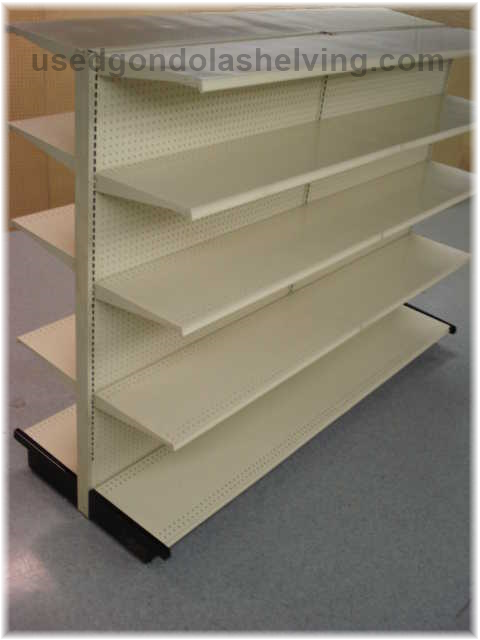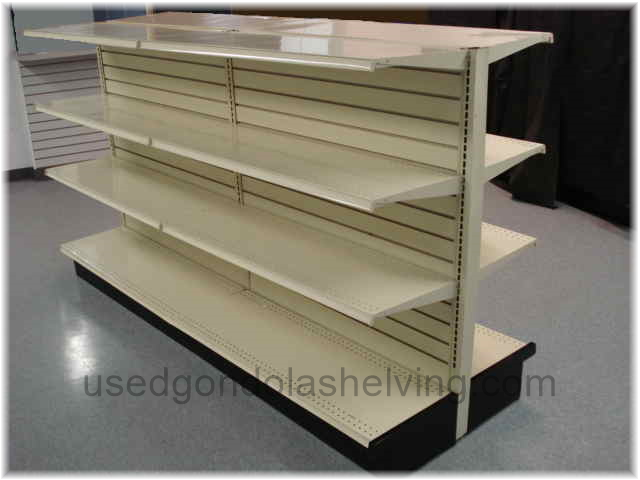 Buy Used Shelving!

Get Multiple Quotes Today!

1-800-301-0634
Get quotes based on YOUR cheapest shipping location!

Or you can just click on your state and find ALL your local dealers!