Click your state to find local dealers and store fixture liquidations!!
1-800-877-4333
Get a quote from our Featured Liquidator!

New or used?
There's reasons to consider new over used gondola that some dealers might not tell you.
Why
Buy Used Shelving
:
•
Costs a fraction of new. The price will vary, depending on condition, location, style and shipping charges. Still, the price of used will almost always be lower than new shelves.
•
Often as durable as new. While used gondola won't have the shiny new feel, it should still have much of the strength and functionality of new shelving.
Also, common shelving colors, like grey or beige, wear well as shelving ages.
•
No lead time on some purchases. Gonna put this one as a reason to buy new, also.
Sometimes you just need shelving quick, despite your excellent planning (cough).
If your local new dealer needs to order, that could take weeks.
Maybe someone local has it in stock, used, ready to pick up now.
•
There simply isn't enough used gondola available to fill the needs of all retailers. Finding large quantities on the spot can be tough, especially if your specifications don't match what's on the market.
•
You can get exactly the sizes/styles needed to maximize their floor space and profitability. Over the life of a Target or Walmart (for example), this increase in efficiency of sales space will vastly outweigh the cost of new shelving.
•
You plan on being there in 25 years. You know this shelving should still look good and function properly. When divided over 15 or 30 years, the cost of new shelving isn't much.
•
You might get a good deal if you can take advantage of quantity price breaks.
•
Products can sell better if a shiny shelf gives a higher perceived value.
•
No lead time on some purchases.
Oh, stop nitpicking all the details. Sometimes the "new" company maintains better stock.
Why Buy New Shelving:
Used Retail Store Shelving
Retail Shelving


There are many forms other forms of retail display shelving; glass, laminated board, plastic and wire are a few common ones...THESE ALL SUCK as used products, compared to gondola.

Gondola style shelving can take some serious abuse relative to these styles.

Gondola shelves can get dropped, hit with hammers, pallet loads of used shelves spilled...then installed to bear 300 lbs like it's a joke.
Then done again 8 years later when that store closed.
Then again 12 years later, in a different business, 2,200 miles away.
Yea, you'll see a lot of scratches by now, and the paints really faded...but how's that used glass shelving doing by now?

You can find some nice used glass displays, sure.
And I've seen and sold tons of really nice, 2x4 laminated style shelving.
Even sold used custom wood shelving. It was great stuff.

...but that nice laminate in it's fourth store? No, 75% of the shelves have been irrepairably chipped.

...the wood probably warped 10 years ago, or got broken during shipping. Whatever reason, the parts that are left just don't fit tight or right anymore.

...that glass shelving...we'll, it just looked at gondola shelving funny, then shattered...that was 18 years ago.

If you want used retail shelving, expect to find gondola.
There are many other characteristics of gondola style shelving that make it a clear favorite among many retailers, and an absolute nessecity for other others.

It does everything.
The shevles are cantilevered, making one loooong shelf possible.
Shelves can be removed, leaving the aisle free for thousands of pegoboard or slatwall accessories; hooks, baskets, dump bins, ect...

On many brands, it can be modified.
The height can be easily cut down.
Base brackets and decks can be changed.
Runs can be extended, shortened end capped.
Parts can be swapped or replaced, integrated into different units.

It's strong. Weight capacities vary between sizes, styles and brands, but you'll see 500lbs per shelf often enough.
The base deck, or larger, bottom shelf, will usually have a much higher weight capacity.

It can be dissamble, packed, shipped and reassembled (relatively) cheap and easy, with minimal damage or wear.

It usualy ships at a low, cost effective, shipping class; class 50 or 70.
Used Grocery Store Shelving

Used C-Store Shelving

Among gondola's other attributes, it's base sets about 8" off the ground and it has metal shelves. For food, these are two common requirements for many state or local health regulations.

So many pegboard accessories are available, you could easily outfit a convenience store with gondola, yet not install any gondola shelves.
Gondola shelving is a cost effective way to satisfy a very broad variety of functions, and also many health/safety concerns and regulations.

This makes gondola style shelving the staple shelving for grocers, supermarkets, dollar stores, convenience stores and mega-retailers (Walmart, Target) throughout the world.

It's also darned sturdy stuff. Time tested by millions.
Even though thousands of people might walk by and utilize it in a day, gondola's not the type of shelving to get you sued for coming loose or dropping it's load.
Grocery Store Shelving
C-Store shelving
Dollar Store shelving
Retail Store Shelving

...it's all the same thing!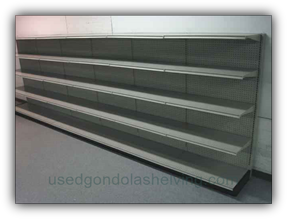 Note that gondola is cantilevered. The shelves are supported only on one end.
Many retail shelving sytems are supported by upright posts on all 4 corners of every shelf.
The shelves on this wall unit above are acting as one, long, 24' shelf. Easier to stock and shop efficiently. You can also fit longer products.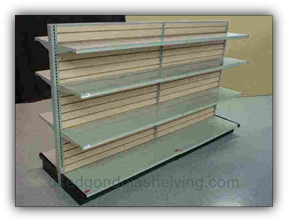 Gondola is versatile: It comes in a variety of colors. Also pegboard, slatwall (above pic), solid-board and more.
Every merchandising tool and accessory is available. A few are: end caps; peg/slat hooks; signage; pricing labels and tag holders; wire fencing; bookshelves; hanging merchandisers and more!
Used Dollar Store Shelving

Used Mega-Retail Shelving

For dollar stores and giant retailers, again, gondola is the only option.
Where else can you find shelving that's safe for food, hardware and furniture, yet still friendly to those who shop and stock your shelves.
There's every peggable or mountable accessory available for food, sporting goods, toys, electronics....even clothes.
© 2011-2017 usedgondolashelving.com • All rights reserved
1-800-301-0634
Used Retail Shelving
Grocery, Dollar, C-Store
Used Lozier • Used Madix
Shelving Liquidations