Click your state to find local dealers and store fixture liquidations!!
1-800-877-4333
Get a quote from our Featured Liquidator!

© 2011-2017 usedgondolashelving.com • All rights reserved
1-800-301-0634
Used Retail Shelving
Grocery, Dollar, C-Store
Used Lozier • Used Madix
Shelving Liquidations
When selling gondola...


Specifics are nessecary.

Retailers need to know if your shelving will work in their store. They might have layouts, blueprints, aisles and products.

To aid in selling your shelving, take an inventory before you dismantle your shelving.

Get all detailed information early, or you will be answering a million questions later.

•Linear footage of island
•Linear footage of wall
•Height(s)
•Base deck size(s)
•Shelf size(s)
•Color
•Condition
•Brand name

When the used retail shelving is completely dismantled, quantities can be figured from an exact piece count: exact measurements and counts of pegboard, uprights, base brackets, rails, shelves, ect...

Usually, you will need to know the brand name of shelving to do this, or know how all the parts fit together. Different shelving brands might contain fundamentally different parts.

If you don't want to do complicated math and research later, get an inventory before you dismantle your shelving.

You still want an exact piece count for many reasons, but it's possible you will never use it when selling shelving. Often a local will just pay you and take it.

Exact counts can help a potential customer reconfigure the parts to create a different layout.

It's good to list the pieces on the reciept, if shortages are later claimed.

Also, it's important to list exact pieces on a bill of lading if you ship your shelving, to protect you against shortage claims.

Sometimes buyers get confused when they get a jumble of parts.

They say what they received doesn't align like you said.

An exact piece counts usually clarifies things, and can help you avoid a difficult situation.
How to ship your shelving
For local deliveries, often a few trips in a hand-loaded, hand-unloaded van or box truck is what happens.
This is bad for many reasons, but I know most of you will still do it.

Loads can shift, basically, which can damage the product. If enough weight shifts at the wrong time, a truck can tip.

Shipping the "right" way, or via a professional carrier, can be expensive if you don't have the resources.

Unless you are shipping a full truckload, you will ship L.T.L. ("Less Than Load"). You will pay by the pallet, it's weight and physical dimensions.

Shipping brokers will often quote shelving hauls at class 70, which is low-cost-per-pound.
Used gondola can be a lot of pounds, though.

To pack and ship shelving, you will need the following:

Pallets, and a way to move pallets around. A pallet jack will usually work fine, but loading onto a truck is another consideration.

A way to load - If you don't have access to a loading dock or forklift, trucks can pick up with a lift gate (extra $, though).

'Stretch wrap' and 'banding tools' - 3/4" banding equipment is best, 1/2" can work, though (cutter, crimper, tensioner, banding and clips).
Grainger
(website)
is nationwide, and carries stretch wrap and banding equipment. Grainger is always professional, and often convenient, but they are on the pricey side. Try renting the tools locally, as a banding kit alone can cost over $1,000 (cool tools, though!).
Want to Sell Used Shelving?
Opening Retailers. Gondola is great shelving for a garage, and it can fill some nice niche's in a warehouse, but it really is retail shelving.

If you have some decent, used gondola shelving for sale, there might be many interested parties. Retail shelving can be very expensive, as you probably learned when you opened up shop, so someone should want to buy your shelving, right?

First things first - Shelving dealers can often be a tough sell.
They will only buy good, resellable products.
They might not pay much for premium products, like beige colored Lozier shelving in mint condition, or grey Madix Gondola. They will be wary of off brands, and won't pay as much, if anything.
Don't be offended when they refuse to pay one dollar for everything you have. They have expenses; trucks, labor, storage, marketing, ect. They might not be buying at the time if their warehouse is more full than their ability to sell.

If a dealer does buy used shelving, they will usually be upfront and professional reguarding removal. They will understand the logistics and complications, and clean out your store, or storage, when and how they say they will. The average Joe might underestimate a shelving teardown or shipping space.

PARTS:
It could be a long time before you get a fair price for anyting except complete units.
If you just have shelves, or parts, a dealer is likely to be you only option, or scrap metal.

Usually you need a quantity, too.
A dealer might but 1,000 shelves or sheets of pegboard, but it not worth their expense for 80 shelves.
If you just have a small amount of gondola to sell, this page will have enough information to guide you towards your best sale.

I have all your local dealers listed.
craigslist
(website)
is usually worth a shot.

I have a 'how to craigslist' article.
Even a little info about how to ship shelving.

Try the 'self liquidate' option to maximize your sales and insure a clean building with the least effort.

While this is all to sell gondola shelving, most of what I say holds true for pallet racking or warehouse shelving, too.
Self Liquidate:
Depending on your situation, often liquidating the store yourself is the best option.

Simply throwing an ad on craigslist, however, will usually use you short-changed.
Let me help!! Use my contact form or call me
(800)301-0634
, and I'll help you sell it!
My specialty is marketing shelving, coolers and other fixtures through a variety of outlets and strategies!
It's what I do!

Get help with brand ID or taking inventory.
Get help marketing. Try searching for "used gondola shelving ___" then pick any city or state in America....you'll find me at google. Remeber, too, if someone just searched for gondola, they're probably opening a store right now!

On your state, you'll get something like this:
Here's Two things you're about to screw up:

1) Inverntory: Yea, it's hard, it's annoying. You're not quite sure what's important.
You need it, though. NO ONE buys shelving if they don't know if it will fit. No one wants to drive to your store for a 'maybe it will work'.
You need sizes, brand, color, and more.
This holds true for other equipment you have left over; coolers, pallet rack, carts.
Write it down, now, once, spend time (make your kid do it)....or you will keep running back to check, every time someone calls you.

2) You won't call me: If you have a couple sections, sure, just throw it on craigslist. But if there's actual MONEY in your store (not nessecarily just shelving), you are way wrong if you think I charge more than I can help.
If things get sticky, or we are in over our heads to begin with, I'll give you the #'s of 10 or 20 dealers and fixed asset recovery firms.
I know dealers/liquidators who will pay the most, depending on you location and equipment.
They can fulfill any contractual obligations, and guarantee broom swept facilities.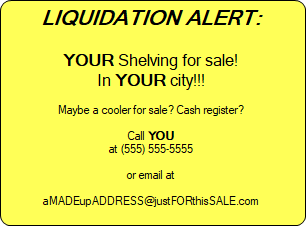 You'll also get help at craigslist (you need it) and any other trick I've learned through years of marketing store fixtures.